SCSI2SD
From code/src wiki
The SCSI Hard Drive Emulator for retro computing.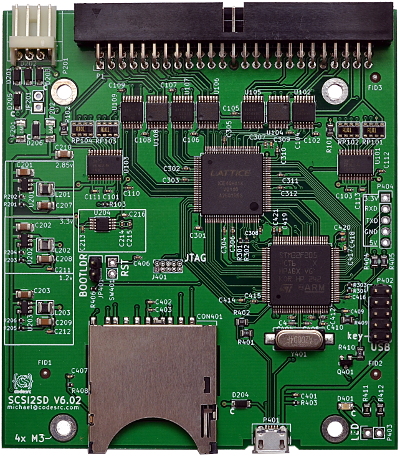 Download
downloads for v3/v4/v5 hardware revisions.
downloads for v6 hardware revisions. This firmware will NOT work on the older boards.
News
[2 April 2017]v6.1.0 Bugfix release
Enable sync transfers on SCSI1 hosts
Support 4MB/s sync transfers for Amiga A590 (WD33C93)
Merge v4.7 release changes
[12 March 2017]v4.7 New firmware
Fix bug in SCSI Inquiry command for SCSI2 hosts
Added OMTI host quirks mode
Fix for booting from early Mac Plus ROMS
Performance fix when SCSI2 mode is enabled. Some users may need to disable SCSI2 mode if it was incorrectly enabled previously.
Added support for configurable mode pages
Fix for exporting selectionDelay/startupDelay parameters to XML via scsi2sd-util
scsi2sd-util is now built with libudev1 on Linux, as all distros have moved to this version. Users on older Linux distributions will need to compile from source.
[7 October 2016]v6.0.13 Bugfix release
Added glitch filter to SCSI signals
Restored parity-checking option (defaults to disabled)
[12 January 2016]v4.6 New firmware
Fixed bug when using sector size that isn't a multiple of 4 (eg. 522 bytes)
Fixed a bug that caused hanging or scsi phase errors on high speed scsi hosts.
Fixed a hang when processing a SCSI RESET in a data phase.
scsi2sd-util: Fixed USB connection problems under Windows 10.
Added option to treat luns as separate devices
Improved boot up time. It is now possible to replace the bootloader with a version that doesn't pause for 2 seconds (bootloader). This is required on some Amigas and the Staubli JC5. Replacing the bootloader CAN BRICK YOUR DEVICE if it fails half-way, so do not attempt this unless necessary.
Overview
SCSI2SD is an emulator for old SCSI hard drives. It allows replacing one or several old broken SCSI drives with a SD memory card.
Which version should you buy ?
SCSI2SD V5
This is the stable version, with the widest compatibility. Most people should buy this version. It works well with both SCSI1 and SCSI2 systems.
SCSI2SD V6
This board offers better performance, but is less compatible.

It may not work properly in SCSI1 systems, including any system using DB25 cabling or passive terminators.
It may not work properly with old ribbon cables.
It may not work with multiple devices on the SCSI bus.
It requires more power than the V5 board and may not be stable using the scsi cable terminator power alone.
There are known compatibility issues. See SCSI2SD V6 Compatibility

SCSI2SD for Powerbook
Designed for Apple Powerbook laptops using 2.5" drives.
Purchase
The new V6 board and 2.5" PowerBook version are available at:
The 3.5" boards are available from the following distributors:
3rd party accessories
durhamcardco.com Internal faceplates for V5 and V6 boards, and external V5 case.
Thingiverse nibblernibbles has created a 3d-printable external enclosure for the SCSI2SD + DB25 adapter. Power can be supplied over USB for hosts which don't supply termination power.
SCSI2SD V5 & V6 Bracket by Maya Designs
Features
In-built active terminator.
Emulates up to 4 SCSI devices (7 for the V6 version)
Supports sector sizes from 64 bytes to 8192 bytes
Firmware updatable over USB
Highly configurable over USB

Selectable SCSI ID
Selectable parity support
Enable/disable Unit Attention Condition
Artificial limits on the SCSI disk size (eg. limit size to 4G to avoid OS bugs)
Sector size (can also be set via the SCSI MODE SELECT command, as sent by SCSI format utilities).

External LED connector.
Technical Specifications
V5 hardware
V6 hardware
SCSI Interface
SCSI-2 Narrow 8-bit 50-pin connector.

Supports asynchronous transfers only.

SCSI-2 Narrow 8-bit 50-pin connector.

FAST10 (10MB/s) synchronous transfers.

SD Card Interface
microSD, tested up to 64GB


Communication is via the SPI protocol at 25MHz (3MB/s theoretical max)

Full-size SD, tested up to 32GB


Up to 20MB/s

USB Interface
Firmware updates and configuration

USB 2.0 micro-B

Firmware updates, configuration, and mass-storage

USB 2.0 micro-B. Mass-storage at USB 2.0 FS speeds (1.2MB/s max)

Power
5V via standard Molex 4-pin drive connector, USB, or self-powered using the SCSI host termination power.

2.35W maximum (500mA)

DO NOT CONNECT 12V at all if you need to make your own power cable as it risks destroying the board if you accidentally swap the wires.

5V via floppy 4-pin drive connector, USB, or self-powered using the SCSI host termination power.

2.35W maximum (500mA)

Dimensions (L x W x H)
5cm x 10cm x 1.5cm
10cm x 9cm x 1.5cm
Performance

Tested under optimal conditions. For comparison, here are some benchmarks of some older SCSI hardware.

Up to 2.6MB/s read, 2.3MB/s write.
Up to 10MB/s.
Compatibility
Files
Firmware update utility and configuration tool at:
These files are currently available for Windows, Linux, and Mac OSX.
A copy of all sources can be obtained via the command:
git clone --recursive git://www.codesrc.com/git/SCSI2SD

or (for V6)
git clone --recursive git://www.codesrc.com/git/SCSI2SD-V6


Alternatively, the git sources can be viewed using your web browser by clicking here or here (V6)
Howto
Alternative Open SCSI Projects
AJ's alternative implementation. AJ and I originally had a competition to design and build a SCSI device to boot an old Mac LCIII. The deadline for that competition has long-since expired without a winner, but we have both continued to progress our designs.
S2I (was: SCSI2IDE)
Old
For historical project information see SCSI2SD old